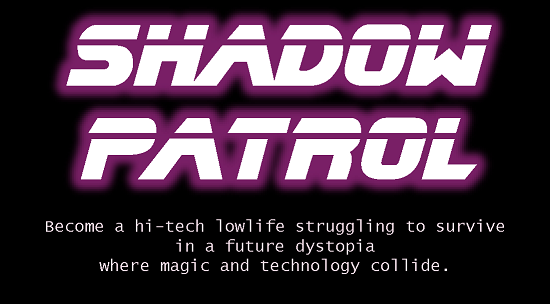 Shadow Patrol
Shadow Patrol is a hack of John Harper's Danger Patrol, where players take on the roles of characters in a dystopian future where magic and technology collide. They will risk it all in daring heists (that will never go as planned), brave rescues (that will probably involve a double-cross), and blazing firefights (like, there will likely be actual balls of fire being thrown around).
Shadow Patrol is designed to get a group together and gaming in minutes, with super easy character creation (pick a Style, pick a Role, you're good to go!), collaborative world-building (as much or as little as you like), and easy-to learn rules. Shadow Patrol also builds on the classic DP mechanics by adding options for new Talents, Powers, and bonuses from when using vehicles, and tables for new scene, threat, and motivation generation.
I'm happy to continue tinkering with and improving Shadow Patrol and any game I work on, so I'd love to hear you thoughts and feedback. Thanks for taking a look and I hope you enjoy the game.
Update! May 12, 2021, I've revised the format to improve the layout aesthetically, as well as to make it easier to read on an e-reader. It can still be printed two-pages to one sheet to save paper. Lots of typos and technical fixes too. Let me know what you think!
Download
Download
Shadow Patrol_ver0.7_210512.pdf
3 MB